About Chameleon Concessions
With over 33 years of experience in the food service industry,
Chameleon Concessions capitalizes upon vast industry knowledge to provide assistance to our customers every step of the way. Prior to launching Chameleon Concessions, Mark Palm gained restaurant experience as a third generation owner/employee of Palm Brothers Restaurant Equipment business, a family business established in 1910.
Mark obtained hands-on knowledge of operations when he owned and operated the Tool Box Deli food stands at Home Depot locations in Minnesota. This hands on experience was beneficial in helping us understand your work flow so you can be productive and profitable. We understand what our customers need to succeed!
Our customers have a strong tenure with Chameleon Concessions because of our commitment to deliver best-in-class products with the highest level of integrity, knowledge, and service at a great value.
Chameleon Concessions is prepared to support each customer with the design, equipment, knowledge and service to launch a successful and profitable operation. We welcome the opportunity to work with you by creating your custom truck, indoor food truck park, concessions trailer, cart or custom build. We are passionate about what we do and enjoy every minute!
Mobile vending provides tremendous opportunity to people interested in pursuing a career in food service, who enjoy being their own boss and earning a profit. Corporations are also using mobile vehicles for promotional and merchandising purposes because it allows them to bring their product directly to their customers.
Chameleon Concessions is committed to making sure every customer is satisfied every step of the way from our initial consultation through the delivery of your mobile food unit on time and within budget.
Chameleon Concessions has many satisfied customers.  We would like to add you to our list of happy customers!
Certifications Achieved:
State of California Department of Housing & Community Development
Certificate of Approval for Mfg Housing Program, Quality Assurance Agency
Certificate of Approval for Mfg Housing Program, Design Approval Agency
State of Oregon Prefabricated Structure Label
State of Washington Labor and Industry Prefabricated Structure Certification
MN State Carnival License
We are often asked "how much it will cost to build a truck, food truck park, trailer, cart or custom build?"  Since every mobile solution we build is custom, to answer that question we need to know more information including your menu, what equipment do you desire, how much storage will you need.  To provide an estimate, we need a clear picture of what we are building.
Frank Powers
Wilderness Resorts
"My name is Frank Powers, Construction Project Manager for the Wilderness Hotel and Resort company, and have recently worked with Chameleon Concessions and Mark Palm on a number of projects including Soaky Mountain Waterpark project, lake Wilderness and Wilderness at the Smokies.
Soaky Mountain required (2) custom built food trucks. This includes procurement, design, fabrication, delivery and set up. With that said, we were within 2% of our original budget and met the overall project schedule. This would not have been achieved without Mark's dedicated team.
Any job that starts well-ends well and Chameleon Concessions, Mark Palm in particular, will provide an intelligent design, good support and strong oversight. I have already worked with Mark on two follow up projects and strongly recommend them to any project team seeking to be successful. You will be hard pressed to do better. lastly, someone give this guy his own reality show. It would be incredibly interesting to learn where he finds these old busses and how he completely rebuilds them. "
"Mark Palm and the Chameleon team were the perfect choice for my food truck business, a true partner in every sense of the word. They understood our brand and our goals, worked on time and on budget, helped us make some tough decisions and held our hand during our roll out week when we didn't even know we needed the help. From truck sourcing to design, equipment support and vendor relations, Chameleon gave 110% and the results were outstanding."
Andrew Zimmern
AZ Canteen Food Truck Owner, Celebrity Chef & TV Host
Todd M. Kronebusch
Buffalo Wild Wings
"After several months of searching for vendors, reviewing their products and their credentials, we made the decision to move forward with Chameleon Carts. Mark Palm worked with us every step of the way. From conception and equipment recommendation to the final product.  Mark was able to provide guidance and direction on the areas that we did not have expertise on.  The finish product was a beautiful, 24 foot trailer, with a four foot nose cone for storage.  Inside the trailer were six 50 Lb. fryers, a 36 inch grill, over 60 cubic feet of freezer and cooler space, a triple sink sanitation station and 60 work station with four full pan warming drawers.  The construction of this trailer was of the highest quality and I was extremely impressed with the detail in which the equipment was installed in the trailer.  The finish product met all State and Federal regulations and requirements.  To this day we receive numerous compliments on the appearance and design of our trailer. The execution was flawless and since that point we have been busy operating events for the Minnesota Gophers and Vikings with expected guest counts of 15,000 to 100,000 people per day.  I would strongly endorse Mark Palm and his team at Chameleon Carts for your next project."
"Mark and his crew made outfitting our food truck so simple. We were blown away with the quality of work they do and loved working with them. Mark really took the time to help us bring our dream to life and we couldn't have done it without him. Very knowledgeable in the industry and helped guide us every step of the way. Absolutely recommend Chameleon Concessions and will definitely be going back when we outfit our next food truck!"
Soulaire
Owner,
Bad Rooster Food Truck
Lucas Ballweber
Lead taco slanger,
Arcane Kitchen
"We approached Mark in 2017 about wanting to start a food truck. Mark, Pam and the rest of the crew at Chameleon have been an absolute pleasure to work with from the start. They had an answer to all of our questions(and we had a ton of them). We will be going into our 5th season with the truck they built for us and we still haven't had an issue related to the craftsmanship of the unit itself. That being said, we have had some minor hiccups along the way and Mark has been my go to guy for troubleshooting. If he can't answer the question, he has a referral to someone who can. Some people are in the truck building business to make money, Mark and the crew have an actual passion for building these units and it shows in the final product. Long story short, if you are looking to build a truck, Chameleon Concessions is the spot to have it done."
"We had Chameleon Concessions built our food truck (Hibachi Daruma) 8 years ago, and it's been our best investment so far! Since the 1st time meeting Mark, we knew right away we found the right guy for the job. Each year, we would bring back the truck for small repairs, or equipment update, or even winterize, Chameleon Concessions has always been there for us, we can't be more thankful to Mark!"
Ken Zylstra
Lifetime Fitness, LifeCafe
"I wanted to reach out and personally thank you for the complete and comprehensive Food Truck buying experience we have received. Going into this process, I had no clue how to build out a used, empty truck and make it a functioning asset that has served us well. From sourcing the truck to designing the space, your expertise and guidance was awesome from start to finish. The end result: fit, finish, on a short time-line was impressive. I also wanted to thank you for taking our many 911 & 411 calls. You've been there for us during the process and after the sale. I'm not an easy person to please but, in this case you and your team exceeded all my expectations. I wish you very well!"
"Caribou was new to the food truck industry. We needed a creative space to make product that also had enough storage and power sources. Mark helped design a completely functioning mini-store that does all of the above. The service from Chameleon Concession's doesn't end when you drive your truck away. Mark and his team are always there for you if you have a question or a concern. They are patient, positive and great to work with. There is a fun vibe when you are at the shop. When people ask who built our truck and are told it was Chameleon, they know it was built by the best!"
Sara Edgren
Caribou Coffee
Gary J. Panton
Street Eats Limited
"This letter can be used a point of reference. Mark Palm has been instrumental on the design aspects of various foodservice carts, trailers, kiosks and built-ins for our company, Street Eats Limited. We manage foodservice for some of the largest "big-box" retail corporations in North America. Mark's extensive expertise, tremendous creative abilities, vast list of resources and knowledge of this industry has helped us define some unique food service solutions for some of our highly specialized retail clients. He has spearheaded nearly every aspect of program development at one of our locations in order to understand all the intricacies of unit operations. On behalf of SEL, Chameleon Concessions scope of work has included concept renderings, miniature prototype models, unit design and manufacture, equipment layout and design, fabrication and trade-dress solutions, menu-board development, environmental health research, attendance at planning and zoning departmental meetings, location installation and warranty service. Mark Palm has been our "go-to" guy whenever a question arises or we stumble upon a roadblock. He gets the job done! We have enjoyed solid business successes with Chameleon Concessions and I personally look forward to a continued relationship."
"We would like to thank you for your contribution to our success at the Walker Art Center. Through the collaborative effort of your team and the Herzog & De Meuron architectural firm, we have undoubtedly created one of the finest coffee carts in the entire world. The custom-built cart that you helped us develop far surpassed our expectations. We believe that our experience operating food services for cultural institutions across the country and your expertise in creating uniquely designed carts, makes us ideal partners. We would highly recommend Chameleon Concessions to any of your clients. We look forward to continuing this partnership."
John Hutson
Wolfgang Puck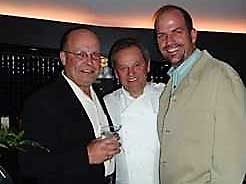 Kristina Benson
Cookie Dough Bliss & Creamery
"If you want your truck or trailer done right then these are your guys. Mark and all his crew treat your entire process with the most amazing care. You're not just a number. They build your truck right, with quality products and follow up after to make sure everything is running smoothly. I cannot recommend them enough, they are AMAZING!!!"