About Chameleon Concessions
With over 33 years of experience in the food service industry,
Chameleon Concessions capitalizes upon vast industry knowledge to provide assistance to our customers every step of the way. Prior to launching Chameleon Concessions, Mark Palm gained restaurant experience as a third generation owner/employee of Palm Brothers Restaurant Equipment business, a family business established in 1910.
Mark obtained hands-on knowledge of operations when he owned and operated the Tool Box Deli food stands at Home Depot locations in Minnesota. This hands on experience was beneficial in helping us understand your work flow so you can be productive and profitable. We understand what our customers need to succeed!
Our customers have a strong tenure with Chameleon Concessions because of our commitment to deliver best-in-class products with the highest level of integrity, knowledge, and service at a great value.
Chameleon Concessions is prepared to support each customer with the design, equipment, knowledge and service to launch a successful and profitable operation. We welcome the opportunity to work with you by creating your custom truck, indoor food truck park, concessions trailer, cart or custom build. We are passionate about what we do and enjoy every minute!
Mobile vending provides tremendous opportunity to people interested in pursuing a career in food service, who enjoy being their own boss and earning a profit. Corporations are also using mobile vehicles for promotional and merchandising purposes because it allows them to bring their product directly to their customers.
Chameleon Concessions is committed to making sure every customer is satisfied every step of the way from our initial consultation through the delivery of your mobile food unit on time and within budget.
Chameleon Concessions has many satisfied customers.  We would like to add you to our list of happy customers!
Certifications Achieved:
State of California Department of Housing & Community Development
Certificate of Approval for Mfg Housing Program, Quality Assurance Agency
Certificate of Approval for Mfg Housing Program, Design Approval Agency
State of Oregon Prefabricated Structure Label
State of Washington Labor and Industry Prefabricated Structure Certification
MN State Carnival License
We are often asked "how much it will cost to build a truck, food truck park, trailer, cart or custom build?"  Since every mobile solution we build is custom, to answer that question we need to know more information including your menu, what equipment do you desire, how much storage will you need.  To provide an estimate, we need a clear picture of what we are building.

The first step is to determine your menu and where you plan to do business. Minneapolis has different rules than the suburbs.  Codes vary from city to city and state to state.
There are a number of factors that need to be considered in determining what equipment is best for you. Some of these factors include your menu, the volume of meals served per meal period, the number of people in your kitchen staff, the duration of your event, your available refrigeration, freezer and dry storage space, and your budget. The equipment to support your menu will dictate the length of the vehicle needed.  We prefer to install all new equipment from preferred vendors we know have equipment that meet code and can withstand the abuse it will undergo on a mobile platform. The next most typical items are a sink system, fryer, range (with or without oven). A fire suppression unit is an emergency extinguishing system in which nozzles are placed under the commercial hood over each piece of cooking equipment with an open flame.  If the temperature exceeds a certain threshold, a dry liquid powdered chemical will be dispersed and the gas will automatically be shut-off. This system also comes with a K-class fire extinguisher. You then need to consider additional cold storage needs and your general storage needs. You will need to be careful about the size of the equipment selected, as it will need to fit in your vehicle.  Be cautious about adding too much electrical equipment because your generator will need to be large enough to power these items.
We will design your kitchen and power needs to your specs and prepare an estimate.  This is a preliminary stage in the process allowing you to change the design or size to make sure you get exactly what you need. We will work closely during this process until you are completely satisfied and your vision is realized.
You will also need to contact your local Health Department as well as your Fire Marshal to understand the codes and regulations in your area. Secure plan approval of your design. Each city and state and has unique requirements that must be met. Chameleon Concessions can provide guidance with this process.  We have mobile vehicles all across the country and we are familiar with most of the requirements.
Confirm financing (if needed)
Hire Chameleon Concessions to commence your build-out
Obtain licenses and permits.  Permits differ in each state, county, and municipality that you are operating within.  Chameleon Concessions can provide guidance during this process.
Launch your social media campaign
Chameleon Concessions delivers and trains you on your mobile kitchen
Secure DOT certification
Hire your employees and make sure your manager is Serve Safe Certified
In you vend in Minneapolis, you will need to procure a commissary kitchen
Schedule an inspection appointment with the Health Department
Train your employees

We can refer to you lenders that we have relationships that can help you obtain financing.

We require 60% deposit to commence the build-out.  The remaining balance is due in the form of a cashier's check, wire transfer, check or credit card.

The time required to complete a build-out will vary upon the season.  You can enjoy faster turnaround times in the fall and winter. The average time to build-out a food truck or trailer is eight to twelve weeks.  The average time to build-out a cart is four to six weeks. The average time to build-out a food truck park or custom build varies based upon the scope of the project.  Please call Chameleon Concessions to discuss your project.

We are not an auto dealership, but we can assist you in finding a truck. We have relationships with a number of dealers that can help you. We do occasionally have used truck inventory at our site that are available for sale.

The price varies widely depending on age, milage and condition.  A diesel truck with 100,000 miles is considered low mileage. A diesel truck can last over 300,000 miles.  Bear in mind that when it comes to your business, trucks are truly a "you get what you pay for" item. A solid, reliable truck can make or break your business.  Is it worth saving a few dollars if your truck spends more time in the shop, than out earning you money.

The following ballpark averages may help you in determining a budget for your truck:

Cooking Truck – A cooking truck can range from $40,000 to $90,000 (not including the vehicle) with a hood, fire suppression system, gas equipment, refrigeration, sink system, propane, generator, etc.

Non-cooking Truck – A non-cooking beverage, dessert, snack truck can range from $30,000 to $60,000 (not including the vehicle)

Custom build – Varies based upon what we are building.  Please call for a quote.

Gasoline or diesel trucks are available.  

Weight distribution is a very important aspect of designing your mobile kitchen. If you purchased a used truck, you may need to install new springs for added support.  We have a relationship with a company that can assist you with this process.

When power is not available you will need to use a generator. Determining your power requirements can be a complicated process.  All our mobile kitchens have an external "shore" power plug that can be used to power your concession when an external source is available.  The size of the generator you need will depend upon the electrical load. We will calculate all your power needs when we design your mobile kitchen and will recommend the properly sized generator.  Generators are similar to trucks where "you get what you pay for". Cheap generators tend to be very noisy and can lead to unhappy customers and can wear on you after time. We have been doing this for years and can secure you a quality generator.   

There are gasoline or diesel generators. We can tie the generator directly to the fuel tank of the truck.     

Your generator is an important component of your mobile kitchen.  If it is not working, you are not making money. Routine maintenance is imperative to keeping your generator operational.

We are not a paint company, however we do have relationships with companies that can paint your vehicle.

We are not a graphic company, but we do have relationships with several companies that can assist you with the design and installation.

Yes, we work with insured reputable carriers to get you mobile solution to you safe and sound.

 Manufacturer's warranty applies to food service equipment. 30 day warranty offered on reconditioned equipment.
"Mark Palm and the Chameleon team were the perfect choice for my food truck business, a true partner in every sense of the word. They understood our brand and our goals, worked on time and on budget, helped us make some tough decisions and held our hand during our roll out week when we didn't even know we needed the help. From truck sourcing to design, equipment support and vendor relations, Chameleon gave 110% and the results were outstanding."
Andrew Zimmern
AZ Canteen Food Truck Owner, Celebrity Chef TV Host
Todd M. Kronebusch
Buffalo Wild Wings
"After several months of searching for vendors, reviewing their products and their credentials, we made the decision to move forward with Chameleon Carts. Mark Palm worked with us every step of the way. From conception and equipment recommendation to the final product.  Mark was able to provide guidance and direction on the areas that we did not have expertise on.  The finish product was a beautiful, 24 foot trailer, with a four foot nose cone for storage.  Inside the trailer were six 50 Lb. fryers, a 36 inch grill, over 60 cubic feet of freezer and cooler space, a triple sink sanitation station and 60 work station with four full pan warming drawers.  The construction of this trailer was of the highest quality and I was extremely impressed with the detail in which the equipment was installed in the trailer.  The finish product met all NSF, State and Federal regulations and requirements.  To this day we receive numerous compliments on the appearance and design of our trailer. The execution was flawless and since that point we have been busy operating events for the Minnesota Gophers and Vikings with expected guest counts of 15,000 to 100,000 people per day.  I would strongly endorse Mark Palm and his team at Chameleon Carts for your next project."
"We would like to thank you for your contribution to our success at the Walker Art Center. Through the collaborative effort of your team and the Herzog & De Meuron architectural firm, we have undoubtedly created one of the finest coffee carts in the entire world. The custom-built cart that you helped us develop far surpassed our expectations. We believe that our experience operating food services for cultural institutions across the country and your expertise in creating uniquely designed carts, makes us ideal partners. We would highly recommend Chameleon Concessions to any of your clients. We look forward to continuing this partnership."
John Hutson
Wolfgang Puck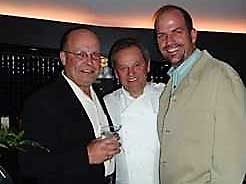 Ken Zylstra
Lifetime Fitness, LifeCafe
"I wanted to reach out and personally thank you for the complete and comprehensive Food Truck buying experience we have received. Going into this process, I had no clue how to build out a used, empty truck and make it a functioning asset that has served us well. From sourcing the truck to designing the space, your expertise and guidance was awesome from start to finish. The end result: fit, finish, on a short time-line was impressive. I also wanted to thank you for taking our many 911 & 411 calls. You've been there for us during the process and after the sale. I'm not an easy person to please but, in this case you and your team exceeded all my expectations. I wish you very well!"
"Mark Palm and his team at Chameleon Concessions made my food truck dreams come true! From start to finish they walked me through each step in the process and made building my own food truck a reality. They were even able to link me to people that helped with audio and camera installation, and a beautiful wrap for my truck. I received a fair price for the build, and I couldn't be happier with the result. Thank you Chameleon Concessions for the wonderful experience and beautiful food truck."
Holly Osborne
Umber Coffee
Gary J. Panton
Street Eats Limited
"This letter can be used a point of reference. Mark Palm has been instrumental on the design aspects of various foodservice carts, trailers, kiosks and built-ins for our company, Street Eats Limited. We manage foodservice for some of the largest "big-box" retail corporations in North America. Mark's extensive expertise, tremendous creative abilities, vast list of resources and knowledge of this industry has helped us define some unique food service solutions for some of our highly specialized retail clients. He has spearheaded nearly every aspect of program development at one of our locations in order to understand all the intricacies of unit operations. On behalf of SEL, Chameleon Concessions scope of work has included concept renderings, miniature prototype models, unit design and manufacture, equipment layout and design, fabrication and trade-dress solutions, menu-board development, environmental health research, attendance at planning and zoning departmental meetings, location installation and warranty service. Mark Palm has been our "go-to" guy whenever a question arises or we stumble upon a roadblock. He gets the job done! We have enjoyed solid business successes with Chameleon Concessions and I personally look forward to a continued relationship."