Meet three businesses that transformed their operations with the help of mobile business manufacturer Chameleon Concessions.
What do you do when a global pandemic rocks your business, causing shutdowns and limiting the number of customers you can serve? You hit the road.
Minneapolis mobile business manufacturer Chameleon Concessions has been building food trucks, concession trailers, and custom mobile enterprises for more than three decades. In the past year, at a time when profits plummeted for many businesses, Chameleon Concessions experienced a 20 percent increase in billable income compared to 2019, says owner Mark Palm.
"People are finding that they can make their businesses much more Covid-friendly this way," Palm says. He and his team are thrilled to help businesses find a new way of operating that fits with the times, he adds.
Check out three of the businesses that sought Chameleon Concessions' expertise this year to help them pivot to mobile operations in a tough year.
Blue Plate
Little Blue Food Truck, opened July 2020
In recent years, the Minnesota State Fair's food vendors have brought in annual gross sales of around $40 million. So when the second-largest state fair in the nation was canceled because of Covid-19, the Blue Plate restaurant group, owners of the wildly popular Blue Barn at the fair, went searching for a way to bring their fair menu and experience to their fan base.
Co-founders Stephanie Shimp and David Burley consulted Chameleon Concessions about building out a food truck in early June. By the end of July, the Little Blue Food Truck was fully operational, serving items like bacon-stuffed tots, elote freestyle corn, and its popular Nashville hot chicken-on-a-stick all over the Twin Cities and even as far as Duluth. Shimp and Burley are considering taking the food truck to Florida or Arizona for the winter.
"Everything is a guess during Covid-19, but we were confident that an outdoor/mobile concept with our food from Blue Barn would be a hit," Shimp says. "We had immediate success scheduling our truck at taprooms and breweries as well as a smattering of neighborhood events and even a small 'Covid-style' wedding."
Crooked Spoon
Food truck set to open late winter/early spring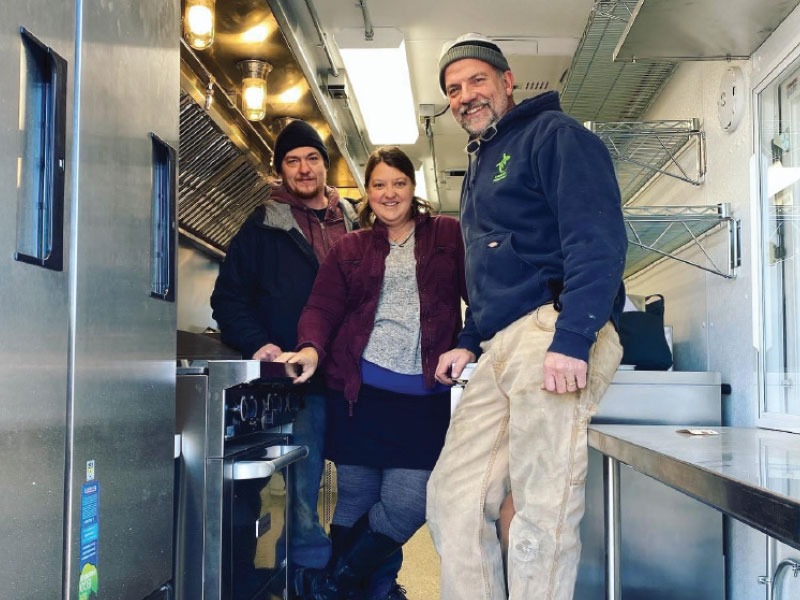 Imagine losing your 14-year family restaurant to a fire in April, less than a month after a pandemic disrupted your entire industry. That's exactly what happened to Grand Marais restaurant Crooked Spoon. Instead of rebuilding a restaurant that could only hold very limited numbers of customers because of Covid-19, husband-and-wife owners Sara and Nathan Hingos decided to take to the open road.
They reached out to Chameleon Concessions and started building a food truck from which to sell their "contemporary American food with a twist," as Sara Hingos describes it. They'll pare down the original restaurant menu, keeping some old favorites, adding some new items, and letting the menu change with the seasons, they say. They plan to keep Grand Marais as the home base for their truck, but they hope to expand operations to other areas of the state within about a year of reopening.
"There are so many unknowns with Covid-19, and our economy and the restaurant industry has taken a hard hit," Sara Hingos says. "Our sales will be hard to beat when we compare to a full-service restaurant in a bustling tourist destination; however, with less overhead, we project to have a sustainable profit margin for a successful business."
Lolli•Pup Pets
Mobile dog-grooming station, opening in spring
Long before Covid-19 came along, dog groomer Heather Hilla had a dream to open a mobile dog-grooming salon. But she'd never taken the leap.
Finally, in November 2019, fed up with working for others, she left a 20-year career as a pet groomer for a corporate chain. She started her own business, Lolli•Pup Pets, making artisan dog tags and offering grooming house calls. She also worked two days a week for a mobile dog-grooming business called Wash My Paws so she could learn more about running a mobile business, something she was considering.
Then in March, Covid hit, and going into people's homes to groom their pets was no longer a safe option.